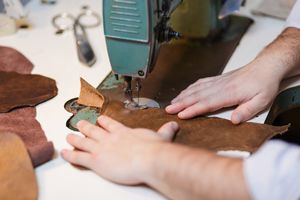 LOOK:
Have you walked around town while doing your errands and noticed how leather and faux leather are increasing in the market?
With the rate at which leather is increasing its demand, there is all need of having a machine that will do its work best for the manufacture of leather goods.
We do not just need a machine for our leather but best sewing machine that will meet customer's satisfaction and which will produce best leather goods so as goods stand out in competitive market due to their quality.
Leather tends to stick to presser foot or throat plate of most standard machines so while looking for a sewer; it should be that provides you with a longer stitch length option to give a stronger, more secure seam.
Either you are using residential or industrial sewer choose which will make your sewing project an easy task that you will enjoy and provides comfort in your work.
A great list of the most recognizable lather sewing machine on the planet.
Click To Tweet
Comparison Chart: Best Sewing Machine For Leather
To help you in finding the best here are some of reviews of the leather sewing machines that I would recommend for you.
This machine can develop 18 stitches and one step buttonhole.
In considering all the important factors, the Janome HD300 machine offers solid performance benefits for your sewing needs.
It's also simple to assemble and store as well.
Highlighted Features
---
More so, this machine can also easily stitch over thick seams with the inclusion of a spring action zigzag foot design.
In reviewing all the important factors, the Brother ST371HD is as powerful as it is stylish.
This powerful sewing machine leaves a small footprint in one`s working space and with practical features to match.
Highlighted Features
---
The startup is also much simple since it comes with quick and easy threading features.
The inclusion of the one-touch automatic thread cutter works well to trim the lower and upper thread to leave your machine ready for the next seam.
All things taken into perspective, the Singer 9960 is a powerful machine which leaves a small footprint in your working area.
It is simple to start up, and it also comes with a fully featured design to match one`s performance needs.
Highlighted Features
---
Highlighted Features
---
Good for straight stitching, this machine is good for home decor and quilting apparel.
Threading the needle needs no expertise.
The machine has self-threading abilities. Die-cast arm and the bed is made of aluminum to allow low vibration during sewing.
The working area is made wider with the help of a fixed extension table.
Leather depicts class and style.
This machine brings out the stitches firm and simple. It isn't complex to use because most actions are programmable.
Highlighted Features
---
It also comes with a patented Posi-pin clutching system, which guarantees 100% power transmission from the balance wheel and onto the needle.
All these features make it perfect for light leather, heavy canvas, denim, and upholstery as well.
The Sailrite Heavy-Duty Ultra feed Walking Foot Sewing is worthwhile investment due to its superior design features.
From the reliable design and the unique Posi-pin clutching system, this machine is the perfect addition to your sewing regime.
Highlighted Features
---
This machine also comes with additional components such as an in-built needle threader and storage tray.
Finally, the Janome HD1000 is a sturdy and fully featured machine that is perfect for any sewist.
It is simple to customize, and it comes with automatic customization features for added benefits.
Highlighted Features
---
Users will also appreciate the inclusion of the deluxe foot control feature, which makes this machine simple to use.
All things considered, the Consew CS206R is feature packed machine that is perfect for tackling heavyweight projects.
It is durable and with various exceptional features to take one`s results to the next level.
Highlighted Features
---
The machine can also sew at an average of 11000 stitches per minute, and it allows you to be creative and express your ideas with ease.
Broadly speaking, the Singer 4432 machine can handle almost any type of sewing project.
It has a heavy duty metal frame, and it makes quick work of your sewing projects each time.
Highlighted Features
---
The inclusion of the adjustable foot pressure dial lets you set the machine pressure to the specific setting required for your fabrics.
Further lending to its superior design is that it has a front face plate that can double up as a storage spot for your items.
Finally, the Toyota Super Jeans machine is a solid machine that is perfect for both novice and professional users.
It comes with convenient design features and an automatic threader, which reduces one`s average stitching times.
Highlighted Features
---
Final Verdict:
Truth is told that there are multiple choices it comes to the best sewing machine for leather.
Despite the fact that you are looking one that works perfectly just at home or you are industrialists looking to boost the output of textile industry, among of reviewed products there is one that is going to meet your desires and needs while addressing all your issues.
Our machines incorporate a few features, influencing sewing any calfskin to piece simpler, and less tedious.
If you need quality, solidness, and high obligation control when sewing cowhide, and thicker textures, at that point you require thinking about this machines
Leather Sewing Machine: Things To Consider
Things to consider and the wide array of choices can often time affect our idea and decision. In line with that, finding the best machine to work with our leather needs can be taxed without the proper help and guide.
Weight of machine
Of course, you want a machine and a model that is portable and will be able to handle larger projects without tipping, stalling or bouncing around. While making your choice of which sewer to use, look for one that weighs a few pounds, taking account of its portability.
Determine your sewing need
You can opt to search for reviews and what the customers are saying about the product of your choosing. It will eliminate those that you don't want and could suit your needs. The rationale of having reviews is that it helps you in sorting out features and specs of products and their models. Also, it can reduce your expectation of product as well.
Strength and durability of your leather
The needle is a significant element in restoring your leather. It can either define the success of your work or ultimately destroy your leather. Even though most needles are compatible with most machines, look for those that bore well with other products. Search for a stitch adjustment so that you can get the full potential of your machine.
Price
Prices of leather sewing machines vary from one product to another.
Choose a machine that is budget friendly depending on workload.
If the workload is somewhere in the middle, particularly if leather products are a bit heavier, you need to have a machine that can handle the load and has heavy duty features.
Finding best leather sewing machine in this time requires careful consideration and thought. With the variety of products, choosing the right one needs careful details.
Faux, fur and even wool the other options that are easy to repair and mend, the leather is deemed as the product with quality and style.
Choosing right leather sewing machine will ultimately help you in concluding hunting down and getting the right one that will make sewing great again.
Make sewing an easy transition of your life.